Formed in 1967 and originally called The Mellow Brick Road. Original members included Jerry Hudson (lead vocals), Phil Hudson (lead vocals), Nick DiStefano (lead vocals/drums) Ralph Parker, RIP (guitar) Joe Hesse (bass) and Jim Hesse, RIP (keyboards). This was the band that recorded All Your Eggs In One Basket (charted on Billboard on United Artists Records) and "The Road-The One Less Traveled By" (on Kama Surta Records) which included their hit single "She's Not There". "She's Not There" sold over 200,000 copies and was a regional hit in many cities and even charted in Greece. Music Man (released independently) was also a hit in the Western New York area.
Their second Kama Surta release was "Cognition" in 1971. This band included Jerry Hudson (lead Vocals), Phil Hudson (lead vocals), Nick DeStefano (lead vocals/drums), Joe Hesse (bass), Ken Kaufman (Piano) and Jake Jakubowski (B-3 Organ).
From 1967-1972 they performed throughout the East Coast and filled area clubs on a regular basis.
The Road broke up in 1972, but later incarnations of the group, with various original members, surfaced during the 1970's and 80's. Some of the more popular members included guitarist Dave Elder, guitarist Bobby Lebel and drummer Sal Joseph.
Great Article On The Roads History:
The Road
by Gary E. Myers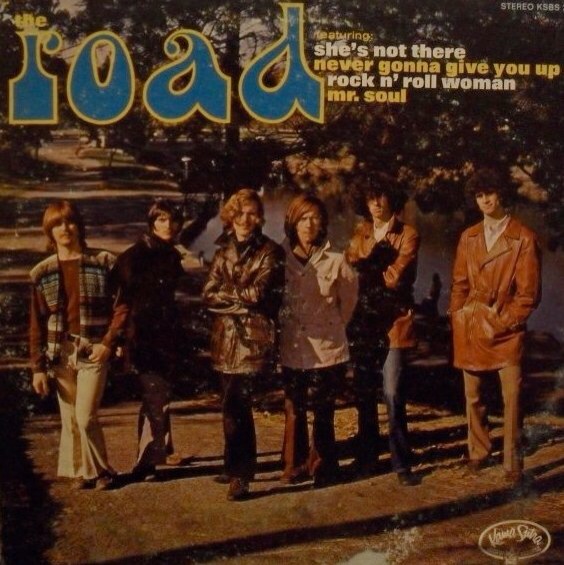 Perhaps The Road would have gone further if they had spent more time on it. Instead, these musicians stayed close to Buffalo, while their remake of the Zombies' "She's Not There" bubbled under at #114 in Billboard and reached #88 in Cash Box. Drummer Nick Distefano said it was a managerial decision that kept them from touring. "We went 'round and 'round with our manager. For some reason, we could never get him in gear. I think he's now in the Federal Witness Protection Plan (reportedly having alluded to mob connections) – somewhere in America."
The sextet did some regional traveling, including Rochester and nearby Canada, but the record was gaining airplay in several areas. This writer heard it often in Los Angeles, and it reportedly charted well in New York City, Hawaii, Fresno, Springfield, Massachusetts – and Greece. (Well, maybe that was a little too far). The group's longest trek was to Chicopee, MA. "I don't think we had any idea how far we were reaching," said bassist Joe Hesse. "I think if we had pushed it a little further we would have made it big."
The Road began as Mellow Brick Rode in late 1967. Brothers Jerry and Phil Hudson (b: 12/4/48 and 2/21/50, Buffalo) were featured vocalists, with brothers Joe and Jim Hesse (6/20/46 and 11/20/47 – 3/13/96, Buffalo) on Hammond B3 and bass. Drummer Distefano (6/16/48, Lackawanna, NY) and guitarist Ralph "R.J." Parker completed the band. The Hudson brothers and Parker came from a group called 6 Pact, where they first developed their arrangement of "She's Not There." Hesse and Distefano came out of Just Us Five, and Hesse's brother defected from Caesar & the Romans. The band played teen functions and bars and became successful in Buffalo very quickly, even inspiring a "Roadmania" incident at a fashion show gig. "We got attacked by these little girls," recalled Hesse. "They were running after us and cutting our hair. All that Jerry had left of his new purple shirt was the collar and a strip of buttons down the front."
Management introduced them to top WKBW DJ Joey Reynolds who took them into the studio. He added their voices to some previously recorded tracks and secured a release on United Artists. Nothing happened there, but Reynolds persevered, producing the first album under the name Rencor Productions at Synchron studios in Wallingford, CT. Nearly a year after "She's Not There", the LP charted for just two weeks, with four additional singles having achieved local action. Other covers on the LP include "A Taste Of Honey," "Love-It-Is" (J. Geils), "I Can Only Give You Everything" (Them), "Dance To The Music" (Sly & the Family Stone), "Never Gonna Give You Up" (Jerry Butler), "Mr. Soul" (Neil Young), and "Rock & Roll Woman" (Stephen Stills).
Jim Hesse and Ralph Parker left early to be replaced by organist Don "Jake" Jakubowski and jazz oriented pianist Ken Kaufman, giving the band two keyboards and no lead guitar. "Ken moved us into a whole other realm," said Hesse. "That's when the band started having a musical edge to it that was really unique." Another addition was Larry Rizzoto who played drums when Distefano sang up front. Rizzoto introduced the members to Scientology, contributing to the metaphysical influence reflected in some of the titles ("Cognition"), lyrics ("Gillian Frank"), and the name itself (the first LP jacket said "The Road – the one less traveled by"). "We had a truck with'The Total Communication Crusade of the Road' on the side," said Hesse.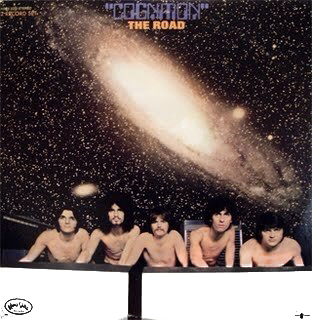 The second album was produced in New York City by Stan Vincent, who was scoring a major hit as writer/producer of the Five Stairsteps "O-o-h Child". "That was kind of a thrill for a young polish boy from Depew," said Don Jakubowski. "I was thinking, 'Boy, this is really incredible. Upstairs Procol Harum is recording, across the hall is Patti LaBelle, I'm in the lobby and he's picking up the phone to call Billy Preston.' Interesting stuff – I've got a lot of memories." Jakubowski eventually left and spent 10 years playing music in Boston. The Hudson brothers and Distefano moonlighted as jingle singers when a Texas company hired them to do station ID's, called poptops, used as sound-alike introductions for current hit songs.
The Road broke up in 1972 and Jerry Hudson recorded a solo single for Big Tree produced by Larry Rizzoto. The song, with lyrics dealing with reincarnation, bubbled under in Billboard in February 1973. Hudson pursued acting in Los Angeles, then returned to Buffalo. The band regrouped June 4, 1974, celebrating it with T-shirts and a gig at Buffalo's Executive Hotel. They released another local single and, a few years later, garnered good local action on their tune, "Music Man." "But it was a one-station deal," said Phil Hudson, with the song appearing on an album put out by WYSL. The Road was an off and on affair after that. Joe Hesse had moved to Los Angeles, but spearheaded a Road reunion when he took a long vacation back to Buffalo in 1980. This incarnation included guitarist Bobby Lebel, drummer Sal Joseph, and Phil's wife Paula Hudson on vocals. "We must have had about 40 members over the years," joked Hesse.
Nick Distefano relocated to Nashville, where he stayed for 21 years doing studio work and touring with name artists including Marie Osmond, Billy Joe Royal, Janie Frickie, Johnny Rodriguez, and David Loggins. His biggest success came when Joe Cocker recorded his tune, "Shelter Me." Cocker's single charted at #91 in Billboard and #80 in Cash Box, and appeared on two of his chart LP's ("Cocker" – #50 in 1986, "Joe Cocker Live" – #95 in 1990). Distefano has had other tunes cut by Glen Mederios and Johnny Van Zant.
The Road maintained some existence until the remaining members finally called it quits on New Year's Eve, December 31, 1982, over 15 years from the band's inception. However, they reunited again July 1989, with four club appearances and a show with America and Three Dog Night at Melody Fair, near Niagara Falls. In the 90's, the Hudson brothers remain involved in music but, as Phil mused, "Every now and then you get to a point where it becomes a little more hobbyistic." Remembering 1969 and "She's Not There," Hudson said "It never sold a million, but it was an exciting time for us." Hesse echoes those sentiments: "I've always had a passion for those times. They were the best times for us and there was more unity among the bands then. It was such an incredible time; we felt it was always going to be there. When we got into Scientology and stopped doing drugs, that enabled us to keep it together a lot longer." In Los Angeles in the 90's, Hesse's Musician's Support Services did sound and production for name artists including Herbie Hancock, Chick Corea, Wayne Shorter, Sheila E. and Andrea Crouch.
Discography
United Artists 50333 (Don't Put All Your) Eggs In One Basket/Other Side Of This Life (Melllow Brick Rode) Aug-68
Kama Sutra 256 She's Not There/A Bummer Feb-69
266 Grass Looks Greener On The Other Side/In Love Apr-69
267 Mr. Soul/I Can Only Give You Everything May-69
504 Grass Looks Greener On The Other Side/Mr. Soul Jan-70
531 Alone/If You Ever Needed A Woman Sep-71
532 Alone/If I Ever Needed A Woman Oct-71
Big Tree 159 Gillian Frank/I'll Feel A Whole Lot Better (Jerry Hudson) Jan-73
Goodtime 4504 Night In The City/Feelin' The Sunshine /74
Road 5610 Music Man/You Give It All /77
LP's:
Kama Sutra 2012 The Road Jan-70
2032 Cognition /71
Buddah 5039 Dial A Hit (various artists – includes "She's Not There") Sep-69
WYSL 1 Western New York's Best New Talent /77
(various artists – includes "Music Man")