The Mission Jam!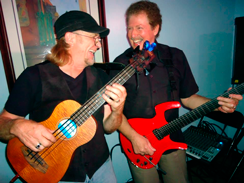 Ten years ago I approached my good friend Mitch Talevi who owns a Scientology Mission In Burbank and asked him if he wanted to do a music night/jam in the back room at his place and invite all the area musicians out.
Since that point Mitch and I have been hosting this event every first and third Friday of the month. Mitch is an awesome guitarist and we get some great players coming down to play. We have a sound system with lights, drums and bass amp. If you play guitar bring a small amp and your guitar.
If you play keyboards just bring your keyboard and we will put you in our sound system. We have plenty of microphones for all you singers. Mitch's wife Dori puts out an awesome table of food and deserts with coffee. I't's all free but if you want to donate a fews dollars thats OK too. We start at 8:00 PM and go till Midnight.
The jam is open to everyone. If you are a player come up and jam with us. We cover all styles. If you love music but don't want to play and want to have a great time come on down and meet some great people.